Metal News of October- Nightwish, Slayer and more…
Post by NeverMoRe | At: 10:06 pm - 13/10/2013 |
[RockPassion.vn] Check out for something worth-to-read of Metal world with RockPassion.vn!
Nightwish Add Floor Jansen and Troy Donockley to Permanent Lineup
About a year ago, Finnish symphonic metal act Nightwish made the surprise announcement that they had parted ways with vocalist Anette Olzon. Shortly after, Floor Jansen came on board as their touring singer and now the band has revealed that she will remain a permanent fixture in the band. In fact, Nightwish have expanded their official lineup to a six-piece ensemble, also adding touring member Troy Donockley on pipes, whistles and vocals.
The band made the announcement via a message on Facebook to their fans, sharing the sentiment below:
Ms. Floor Jansen is a keeper.
Also, we will be a six-piece band from now on, as Mr. Troy Donockley (uilleann pipes, low whistles, vocals) will become a full-time member of Nightwish.
Originally we were going to wait until 2014 to make a decision about the future line-up of the band, but the past year has clearly shown us that Floor and Troy are perfect matching pieces to our puzzle, and we are really grateful of the bond that has grown between all of us. We love you guys.
Jansen shared her feelings as well, saying, "Words cannot describe what I feel! This union is beyond everything and I cannot tell you how wonderful it is to continue this amazing journey with my new brothers! Once I had a dream…and this is it!!!"
Donockley was as equally excited, sharing, "Imaginaerum World Tour was a revelation to me and in that time, I became aware of a growing unity and then, finally, a transcendence of all the usual nonsense that affects bands. A beautiful process. And since the idea, the musical dream that is Nightwish has been a part of me since before I was born, I am delighted to officially sail into uncharted waters with my brothers and sister. Wondrous scenes Ahoy! "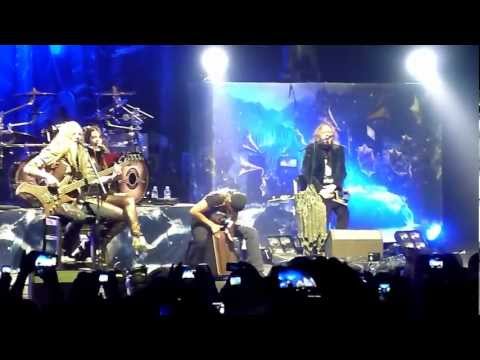 Slayer's Tom Araya Recalls Learning About Bandmate Jeff Hanneman's Passing
We were recently given the privilege of speaking with Slayer frontman Tom Araya for an exclusive interview. Our chat with Araya was truly unique, as you'll see while we roll out more and more of the interview in the very near future. In this portion of our talk, Araya opened up to reveal the moment he heard that Slayer guitarist Jeff Hanneman had passed away.
Slayer fans, along with Araya himself, were very optimistic about Jeff Hanneman's recovery from necrotizing fasciitis, which is why the guitarist's death came as such a shock. Unbeknownst to the public, Hanneman was suffering from liver failure, as well, which led to his passing on May 2, 2013.
We recently broke the news that Slayer will be delving into Hanneman's audio archives with the hope of injecting Hanneman's never-before-heard works into the band's next album. Up until his death, Jeff was working on music for Slayer, having sent one full new song to Araya prior to Hanneman's passing. During our interview with Tom Araya, he took us back five months, detailing Jeff's health and how the frontman heard of Hanneman's passing.
"I was at home," begins Araya. "First off, I knew that he was back in intensive care. I had communicated to him while he was in intensive care via text and, like I said, he had passed on that song to everybody so I was able to communicate with him and tell him I had heard the song and that I thought it was great and that I was gonna start listening to it and see if anything comes as far as song ideas. Later on, I was made aware of the fact that his health wasn't very well. I was always hopefully and optimistic, so I would send him texts asking him how he was doing and that I hoped he was getting better and that I can't wait to start working on new ideas with him."
The Slayer frontman continues, "A week later, I got the call saying that he had passed away and I was like, What?' By all accounts, it seemed like everything was on an upswing, so to hear that, it kind of floored me. I think it floored everybody. It floored our manager; he was the one who called me. It's one of those things you don't want to believe."
Stay tuned for the rest of our exclusive interview with Slayer's Tom Araya and keep on the lookout for news on Slayer's next studio album.
Judas Priest's Rob Halford to Make Animated Appearance on 'The Simpsons'
For many musicians, being transformed into a 'Simpsons' character is an honor outweighed only by a Nobel Prize. Many of rock and metal's most iconic figures have been turned yellow by 'Simpsons' animators, and Judas Priest singer Rob Halford is the latest to receive the cartoon treatment.
Halford will appear in an episode titled 'Steal This Episode,' which is scheduled to air in January. The episode is already a star-studded affair, with animated appearances from Judd Apatow, Will Arnett, Leslie Mann, Paul Rudd, Seth Rogen and Channing Tatum. Rob Halford's inclusion ups the star level even more, appealing to an entirely new fan base.
According to Entertainment Weekly, the plot of 'Steal This Episode' revolves around Homer Simpson's disdain for movie theaters. Bart teaches Homer how to illegally download films, which leads to backyard screenings at the Simpson's house. Rob Halford sings a parody of the Priest classic 'Breaking the Law' in an attempt to bring Homer to justice.
Judas Priest recently finished writing their 17th studio album. "It's heavy," Halford tells Billboard. "It's something we think our Priest fans will be thrilled with. We know we have a reputation to maintain, and we know we have to deliver something really strong and solid. The album is going to be full of all the great things you love about Judas Priest — I don't think I can say anything more than that without being hung, drawn and quartered."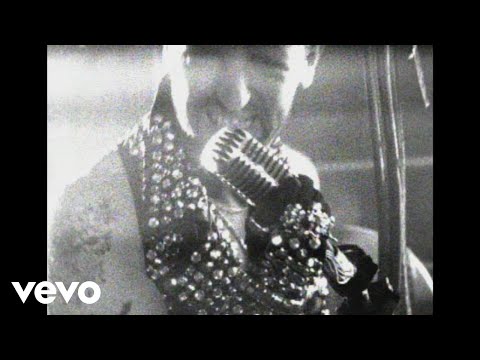 Be sure to look out for Rob Halford's appearance on 'The Simpsons,' which will air this coming January!